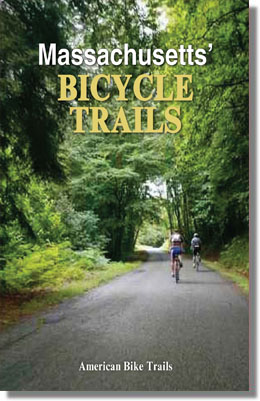 Massachusetts' Bicycle Trails
by Ray Hoven for American Bike Trails
Includes most Ridable Rail Trails - Where to bike on over 100 trails throughout the state, both surfaced and mountain biking. Illustrated and in color, easy to reference and use.
Directions to trail sites and accesses.
Trail distances, general setting, conditions
Available facilities, and points of interest.
224 pages 5 ½ x 8 ¼
1-57430-141-1 2008 B254 $16.95
Massachusetts Trails & Ride Journal
by Ray Hoven for American Bike Trails
A comprehensive listing of facts and descriptions for over 85 trails throughout Massachusetts, plus an easy to use log for recording and referencing your rides.
Includes:
Directions, lengths, uses, surfaces
Settings, facilities
Contacts for more information
120 pages 5 x 7

1-57430-120-9 B140 $ 9.95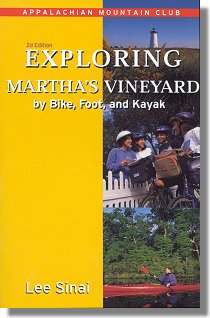 Exploring Martha's Vineyard by Bike Foot and Kayak
by Lee Sinai
An Island classic, with 3 of its most popular activities: Biking, Hiking and Kayaking.
Descriptions with detailed maps
Distances, access info
Natural and local history
288 pages 6 x 9

1-87823-990-2 B135 $14.95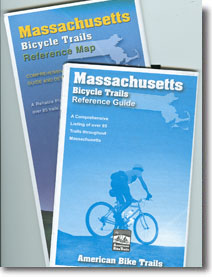 Massachusetts Bicycle Trails Reference Map & Guide Set
by Ray Hoven for American Bike Trails
Large 26" by 34" illustrated map and 17" x 21" guide
In color and two sided. Loaded with information on over 85 trails in Massachusetts
Includes:
Trail lengths, surfaces, settings
Alternate uses
Coordinates and directions on getting there.
1-57430-121-7 MA80 $ 7.95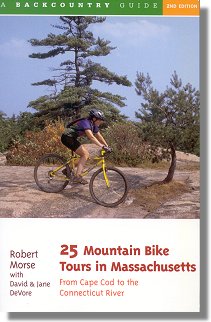 25 Mountain Bike Tours in Massachusetts
by Robert Morse
Offers tours ranging from urban parks tucked within the metro Boston area, to coastal trails on Cape Cod & Martha's Vineyard. 224 pages
5 ½ x 8 ¼
0-88150-456-4 B153 $15.95