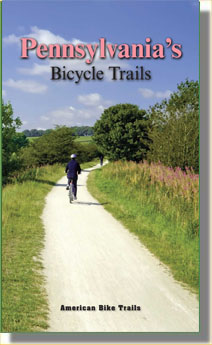 Pennsylvania's Bicycle Trails
by Ray Hoven for American Bike Trails
Includes most Ridable Rail Trails!
Where to bike on over 50 off-road trails throughout PA, both surfaced and mountain biking. Illustrated and in color. Easy to reference and use. Includes trail distances, general setting, and conditions. Points of interest, riding tips, contacts for additional information.
Alternate trails and uses suck as Biking, Hiking, In-Line Skating, Cross-Country Skiing, Horseback Riding and Snowmobiling. Nearby facilities and activities.
208 Pages 5 1/2 X 8 1/2
1-57430-142-X B262 $16.95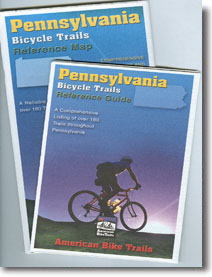 Pennsylvania Bicycle Trails Reference Map & Guide Set
by Ray Hoven for American Bike Trails
Large 26" by 34" illustrated map and 25 ½" x 20" guide, in color and two sided. Loaded with information on over180 trails. City & county to trail indexes, trail descriptions, trail lengths, surfaces, settings, alternate uses, coordinates, and directions on getting there.
1-57430-119-5 PA80 $7.95