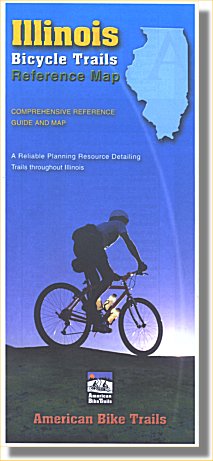 Illinois Bicycle Trails Reference Map
by Ray Hoven for American Bike Trails
26" by 38" , full color, two sided.
Loaded with information trail to map, city to trail and county to trail indexes.
Trail facts, settings, alternate uses and facilities. Trail coordinates, latitude/longitude & trail notes.
1-57430-106-3 IL80 $ 6.95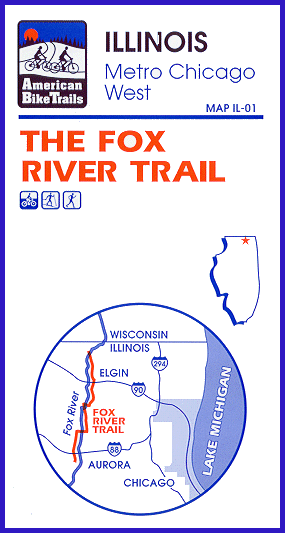 Best of Illinois Trails Pocket Trail Maps
by Ray Hoven for American Bike Trails
10 separate maps, 31 trails. Easy handling on the trail – compact, easy to read, waterproof, tearproof. Detailed 2 color Trail Guides for Bicycling and other Trail Sports. Maps include area overviews, trail accesses, points of interest, mileage and location of facilities such as parking, restrooms, water, refreshments, info. and lodging.
Maps are $3.00 each / or buy them all in this bundle for only $19.95. (a $30 value)
1-57430-001-6 IL01 Fox River Trail
1-57430-004-0 IL04 Green Bay/N Shore Path/Evanston Paths/Illinois Beach State Park/Zion Paths
1-57430-008-3 IL08 South Cook County: Salt Creek/Arie Crown/ Tinley Creek/Thorn Creek Bicycle Trails
1-57430-009-1 IL09 Palos Preserves/Waterfall Glen Forest Preserve
1-57430-010-5 IL10 I&M Canal State Trail/Grand IL Trail/Goose Lake Prairie Hiking Trail/Starved Rock
1-57430-011-3 IL11 McHenry & Boone Counties: Moraine Hills/ Prairie Trail N&S/Long Prairie/Glacial Park
1-57430-012-1 IL12 Lake County Trails: Chain O'Lakes SP/Green-Belt FP/Grant Woods
1-57430-013-2 IL13 Peoria Area Trails: Rock Island/River Trail/Pimiteoui Trail
1-57430-082-2 IL15 Cook Cty: Des Plaines/Indian Boundary Div.
1-57430-083-0 IL16 Hennepin Canal Parkway
1-57430-175-5 SP-IL01 $19.95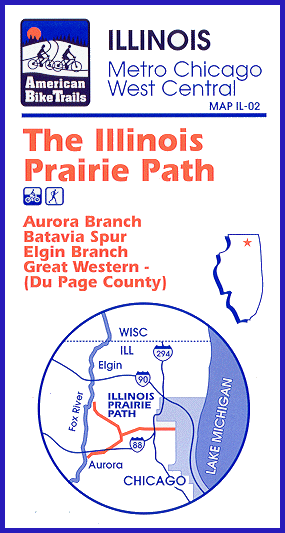 The Illinois Prairie Path
by Ray Hoven for American Bike Trails
Includes the following trails:
Aurora Branch
Batavia Spur
Elgin Branch
Great Western - DuPage County

978-157430-002-4 IL02 $4.95 on sale for only $3.00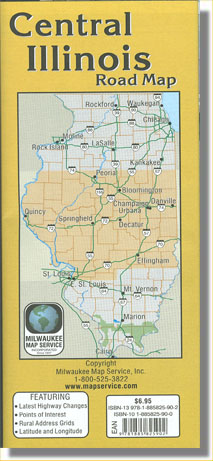 Central Illinois Road Map
by Milwaukee Map Service
This map for Central Illinois covers over 15 counties.
The cities and streets are indexed
Points of interest
latest highway changes
rural address grids
and much more!
1-885825-68-3 MP36 $6.95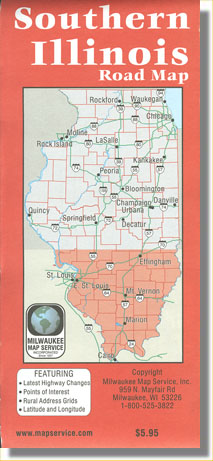 Southern Illinois Road Map
by Milwaukee Map Service
Covers over 18 counties
The cities and streets are indexed
Points of interest
Latest highway changes
Rural address grids
1-885825-65-X MP37 $5.95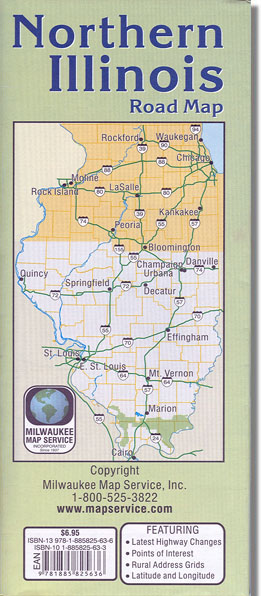 Northern Illinois Road Map
by Milwaukee Map Service
Full color, two sided
All major roads and streets
Points of interest
52 Counties
Public Hunting Grounds
State Parks
Rural Address Grid
1-885825-68-3 MP14 $6.95